This 12" plate fills the void for those customers whose telescopes use the Vixen-style mounting plate. Now there is no need to replace your existing Vixen-style bar, rings, or clamshell to accomodate your Astro-Physics mount.

The top portion is a female plate that accepts Vixen-style bars. In order to retain the tilt-in feature of the dovetail, the sliding bars must have an approximate width between 1.65" (42mm) and 1.8" (45mm) and that have a 75 degree bevel.

Please note that we have not tested all plates that are currently available on the market. We recommend you check your plate for a good fit in this saddle without an instrument attached!

The bottom dovetail of the plate has the ubiquitous D-series style male dovetail, allowing it to be clamped into any saddle plate which accepts this size plate. This includes the following Astro-Physics plates:

DOVELM2
DOVELM162

As well as these discontinued, older style saddles:

DOVELM
DOVELM16
DOVELM16S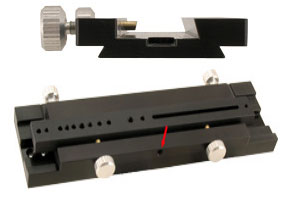 The saddle portion of this plate has a hole in the center to relocate one of the knobs for use with a shorter sliding bar (as pointed out in the rollover image above). With a knob in the center and in one of the outer holes, you can use a plate as short as 4.5" (114 mm) and still maintain two clamps engaged on your sliding bar.
This plate ships with one 1/4 - 20 x 1/4" socket head screw to use in the bottom of the SBD2V plate as a safety screwfor this plate. Please install it in the appropriate end to function as a safety stop. The screw packet also includes a 1/4 - 20 x 1/4" low-profile socket head cap screw for use as a safety stop in the bottom of your Vixen-style, male sliding bar.

Note that the top portion of this plate is not designed to be used with our SB0800, SB1000 or SB1500 sliding bars.

Weight: 2 lbs. (1 kg). This plate is ribbed on the bottom to remove excess weight yet maintain strength.