Concept: The goal of all Tele Vue products is to enrich your observing experience. We view our products as a success if they cultivate your enthusiasm for amateur astronomy.
One sentiment that many Tele Vue owners have expressed is their delight in owning a telescope package that is quick to set-up. So, even when there isn't the time for an extended observing session, they can still easily "just take a peek" at the sky. In other words, the equipment itself doesn't become a rationale NOT to observe.
This recurrent theme weighed strongly in shaping a computer locator. The compact size and simplicity of our Sky Tour computer belie its power and elegant functionality. It creates a unified system that is easy for every family member to carry, set-up and use successfully. We paid special attention to making Sky Tour easy to learn and giving it a sensible database. We felt it was important to include a field guide with star charts and a full listing of the objects in the computer database. With this information and the exceptional performance range of Tele Vue telescopes, both novice and advanced amateurs can stretch their observing experience with every session.
- Al Nagler
Sky Tour Introduction
The Sky Tour object locator adds "brains" to your Tele Vue mount. With its exclusive Lorenzin 2000+ database and refinements such as dimmable red light display, backlit button names, 10-character speed-adjustable scrolling display, and advanced "identify" capability, Sky Tour brings the hand-held computer to a new feature/performance level -- a Tele Vue level of convenience and ease of use. When Sky Tour is added to Tele Vue mounts, the total system is simple enough to encourage beginners, yet deep enough for experts to maintain a lifetime of observing enthusiasm.
For the amateur telescope maker, you can purchase the Sky Tour computer and encoders for integration into most any telescope mount. The Sky Tour computer can be initialized and custom calibrated for the following types of mounts: altitude-azimuth, German equatorial, fork mount, and equatorial table.
Locate 2000 Objects
More than just a star listing, Tom Lorenzin's 2000+ database is a collection of interesting and observable double and triple stars, bright and dark nebulae, galaxies, star clusters and colored stars most suited to Tele Vue telescopes.
The 2000+ objects are organized into six catalogs: NGC (New General Catalog), M (Messier), IC (lndex Catalog), ST (Star), NS (Non-Standard), and PL (Planets). For quick reference, an additional FAV (Favorites) catalog is available to store 99 of your favorite objects.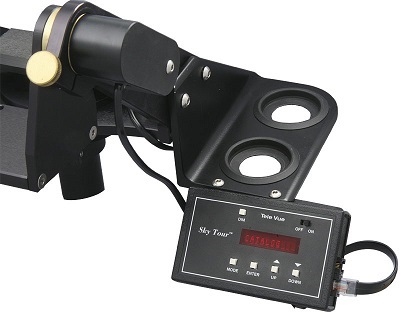 Sky Tour on Caddy Plate with altitude encoder visible.
View from eyepiece end shows Sky Tour (can be positioned on either side of mount).
View from objective end showsEyepiece Caddy Set on mount sides.