10-to-1 Micro Edge Focuser for 2.7" focuser.
Adjusting the tension on the Microfocuser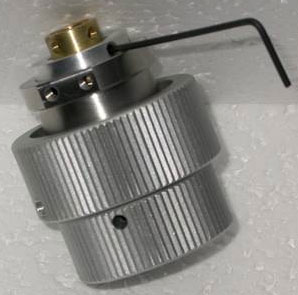 The tension on the 10:1 focus knob can be adjusted to tighten or loosen the focus drag to allow the focuser to carry a heavier load or loosen the tension for normal focusing.

The adjustment is made as follows:

1. Insert the .050" Allen supplied into the set screw located inside the tension adjustment collar of the MEF as shown in the photo and loosen the set screw.

2. Then if tightening is the desired effect, turn the collar clockwise using the Allen wrench as a lever and tighten the set screw. Then test the 10:1 knob to see if the adjustment has achieved the desired drag to move the heavier load. If not, repeat the same process and tighten the collar after the set screw has been loosened until the desired drag has been achieved.

3. If the desired result is to reduce the drag, after inserting the Allen wrench into the clutch collar turn the collar counter-clockwise to lessen the drag.

Note: This process pushes a spring washer against 21 bearing balls, so over-tightening will harm nothing. If this is the effect, loosen the set screw and turn the adjuster counter-clockwise to lessen the drag.