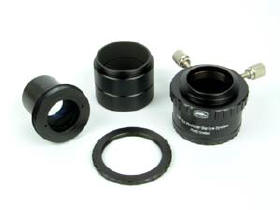 The Baader Planetarium VIP Modular Barlow is a complete high quality 2X photo-visual barlow system. The VIP (VIsual and Photographic) barlow is ingeniously designed for functionality and flexibility. It consists of several modular component parts, which enable you to configure the barlow for multiple visual and imaging uses.
Designed to accept 1¼" eyepieces and fit 1¼" focusers, it also incorporates a 2" section for use in 2" focusers. The eyepiece holder uses dual nickel plated clamp screws for maximum convenience and security, and incorporates a captive spring bronze lock ring to prevent any possibility of damage to your eyepieces. As with all Baader Planetarium products, the quality of machining and detail of design is unsurpassed. The internal surfaces are all fully sharp V-threaded and blackened to eliminate stray light reflections. Surfaces are finely machined and satin anodized for function and appearance, and the pieces all fit closely and precisely.
The heart of the VIP modular barlow is its precision air-spaced negative lens assembly. The large 24mm clear diameter of the optics minimizes vignetting, and its apochromatic field-flattening design makes it well suited for high power planetary observing as well as for CCD cameras. Both lens elements are polished to a very high standard, and fully multi-coated, using the finest 7 layer multi-coatings available today (reflections per surface are less than 0.2% !). The result is a sharp, high-contrast image that is virtually unaffected by its passage through the barlow.