TheSkyX Professional Edition is the next major release in TheSky's 27 year history.

Many of you have never seen the sky. Not really. If you live in a city or suburb, a pale blue or grey dome looms overhead while the Sun is up, and a darkish brown curtain hangs down at night, with maybe a few sparks of light poking through here and there if the clouds haven't gathered and the glare from buildings and cars and billboards isn't overwhelming. The Sun and the Moon are unmistakable of course, but the spattering of stars you glimpse are probably strangers to you. Some of them might even be planets – for most people, it's hard to tell the difference. All of this is about to change. You have in your hands an extraordinary tool for revealing not just new worlds, but the entire universe. The night sky is an incredible wonderland of diverse and spectacular objects and phenomena. Some of these breathtaking sights are created by tiny particles that ply the fringes of our atmosphere. Others are immense, ancient structures, incomprehensibly far away.

TheSkyX Professional Edition or TheSkyX Serious Astronomer Edition will bring all of these amazing marvels and more to your desktop. It will help you learn the fundamentals of astronomy, the most ancient science, and teach you how to recognize just about everything in the real sky. Whether you're looking up from the streets of a light-polluted city, or taking in the view from a remote, pitch-black mountaintop, or controlling your distant observatory from Internet, TheSkyX will help you understand what you see and find what you're looking for. You'll also enjoy experiences that are only possible through the magic of simulation and virtual-reality programming. Faster-than-light flights through the solar system, out-of-this-world views of the Earth and Moon, and the orbital tracks of hundreds of satellites are just some of the animations built into TheSkyX. Trips through space and time that were once possible only in the imagination will be vividly brought to life on your computer screen.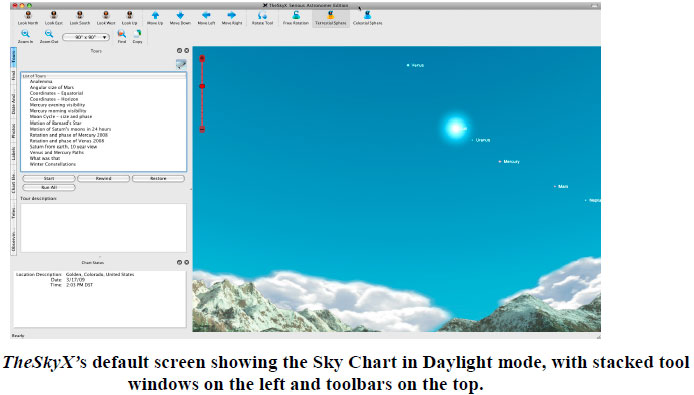 TheSkyX has something to offer everyone, from the absolute beginner to the most knowledgeable amateur astronomer.
Features

TheSkyX Professional Edition is your astronomy toolkit; loaded with features you want: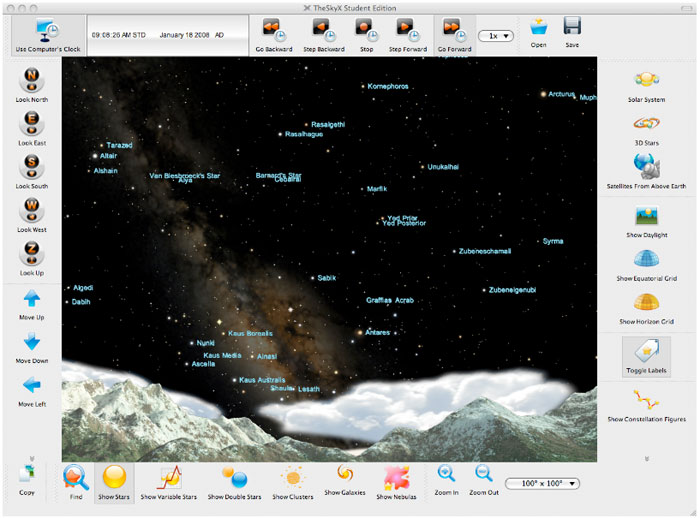 Software Subscription

Selected Software Bisque software products are "subscription based." When you purchase a software product from Software Bisque, in addition to the standard software license, you also receive a one (1) year software subscription that provides the following benefits:

1. Download the full product anytime.*
2. Download the latest product updates anytime. Updates include new features, improvements, support for new hardware devices (telescopes, cameras, focusers, etc.) and bug fixes that were not part of the initial release.
3. Access to your Software Bisque account information, including your product serial number.
4. Free upgrade to the next major release with continuous, uninterrupted subscription payment.

After one (1) year from the date of purchase, in order to continue to receive the above subscription benefits, you can optionally choose to renew your software subscription ($75 per year).

* If you choose not to renew your subscription, the software can still be used according to the standard software license agreement.
* The subscription renewal is not automatic. You will be notified by email when your product subscription is about to expire.
* The cost of the annual software subscription approximately 20% of the (box+download) products retail price.
* To manage your subscriptions, click on your sign in name at the top of any page on the Software Bisque web site, and then click the Subscriptions link.

*Limited to a maximum of 5 downloads of the full product installer per year.
The SkyX Professional and Serious Astronomer Edition User Guide