In order to provide even more functionality for the popular ST-i camera, SBIG has developed a Guiding Kit made specifically for the ST-i that turns the small camera into a complete guiding system. The kit consists of a custom c-mount adapter, a high quality 100mm FL f/2.8 lens with lens hood, rock-solid mounting rings and a universal mounting plate for attachment to virtually any telescope equipped with a piggyback mount or accessory plate that uses a standard 1/4-20 bolt or threaded hole.



The assembled system is ultra-compact, only 6.5 inches long, and weighs less than 13 ounces (368 grams), including the camera! Even so, it is capable of guiding to sub-arcsecond accuracy on stars fainter than 7th magnitude using 1-second exposures. With its 2.7 x 2.0 degree field of view, this means that there will virtually always be a suitable guide star in the field of view no matter where the telescope is pointed in the sky. The benefits of this are twofold: first, there is no need to hunt for guide stars, and second, since there is no need to adjust the pointing of the guide scope to find suitable guide stars, the guider can be more firmly mounted to avoid differential deflection. Unlike mounting systems using rings with three point adjustment screws that can move or flex, the oversized rings of this Guiding Kit clamp firmly around the body of the ST-i camera and hold it firmly in place. Guide scopes that use adjustable mounting systems are almost always plagued with differential deflection. The ST-i guiding Kit is mechanically rock-solid.



In addition to making guiding a complete and easy task, this kit also makes the ST-i a very capable electronic finder scope. The ST-i, with its built-in shutter can take dark frames allowing the useful capture of relatively long exposures compared to other guiders. The lens of our new Guider Kit has a fast focal ratio of F/2.8. This combined with the sensitivity and dark frame capability of the ST-i means that globular clusters and cores of galaxies are within easy reach of this compact system. In tests of the ST-i and Guider Kit from a typical backyard observatory with average light pollution, stars dimmer than 10th magnitude were detected in 1-second exposures. In 10 seconds, stars dimmer than 13th magnitude were recorded and stars as dim as 15th magnitude were captured in 30 seconds.


ST-I GUIDING KIT ASSEMBLY INSTRUCTIONS


10 sec. ST-i Guider Image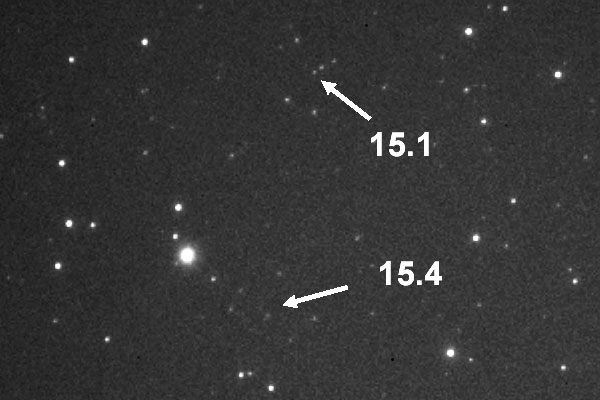 30 sec. ST-i Guider Image