Our mid-size SBIG® Aluma® Series cameras offer performance and features not available in any other scientific-grade imaging camera. This lightweight (2.2 lbs) and compact (4.5″ x 4.5″ x 4″ with handles) camera includes two-stage cooling, USB 2.0 and WiFi 802.11 b/g/n interfaces, ultra-reliable even-illumination shutter, and fast low-noise readout. Aluma can be operated from a tablet or smartphone, or from a Windows, Macintosh, or Linux PC.
The Aluma series supports a wide range of accessories, including the 8-position FW8S-Aluma filter wheel with micron-level filter positioning, FW8G-Aluma filter wheel with built-in autoguider, AO-8A Adaptive Optics accessory, Remote Guide Head, and CLA lens adapters.
Aluma Features include:
Wide variety of imaging sensors
Light weight, compact design
Centered optical axis for optimum instrument balance
Ultra reliable even-illumination (photometric) mechanical shutter
Support for iOS, Android, Windows, Macintosh, and Linux
WiFi 802.11 b/g/n and USB 2.0 communications interfaces
Full frame image buffering eliminates readout artifacts and provides 100% reliable wireless download
2-Stage TE cooling for typical maximum -50C delta T
Twin variable speed fans
High accuracy temperature regulation
Built-in RBI Pre-flash (full frame front-illuminated sensors only)
External TTL trigger inputs and output
Included 110V / 220V power supply and optional 12VDC operation
User-rechargeable desiccant plug
Built-in 1/4-20 tripod mount
Support for high precision 8-position filter wheels
Support for external guide head, self-guiding filter wheels, and adaptive optics
Bulletproof firmware update capability – virtually impossible to "brick"
Multi-Platform Operation
Aluma is designed to operate either via USB 2.0 or WiFi 802.11 b/g/n. Designed from the ground-up to support operation on any modern computing platform, Aluma is compatible with iOS, Android, Windows, Macintosh, and Linux. Fully-documented and supported drivers are available for all platforms, including ASCOM drivers. The Aluma camera interface specification is fully documented, supporting the development of fully custom interfaces.
Software Included
All Aluma models ship with MaxIm AL for Windows – a special version of MaxIm DL specific to SBIG cameras. In addition our new Aluma software for iOS and Android is under development. Aluma also supports third-party applications through ASCOM and native SBIG drivers.
Compact and Lightweight Design
Aluma cameras measure just 4.25″ x 4.25″ x 4.0″ with handles (3.5″ without handles) and weigh just 2.2 lbs (1 kg).
Mechanical Shutter
The Aluma 694 has electronic shuttering, for a minimum exposure of 0.001s. In addition it has a high reliability mechanical shutter, which facilitates accurate dark/bias calibration frames.
Efficient 2-Stage TE cooling
The Aluma uses two-stage TE cooling, twin variable-speed fans and a heat sink design optimized using computer thermal flow simulation. This permits high performance using air cooling only.
High Performance ICX-694 Image Sensor
The Aluma 694 uses the popular 6 megapixel SONY ICX-694ALG sensor. This sensor has 2750 x 2200 pixels at 4.54 microns square, for a 14.6 mm x 12.8 mm optical format.
This is a high sensitivity interline CCD sensor with extremely low dark current and very low read noise. Combining this high-performance sensor with Aluma's high cooling performance and low readout noise results in exceptionally clean images.
This sensor includes microlens technology that concentrates light on the sensitive area of each pixel. The CCD's sensitivity peaks in the center of the visible spectrum at 550 nm, and maintains high sensitivity throughout the visible spectrum.
Included Accessories
Each Aluma camera package includes:
MaxIm AL Software
iOS / Android software coming soon (via app store)
Deluxe carrying case
Universal power supply (110V / 220V, 50-60 Hz)
2″ Nosepiece adapter
USB flash drive containing software, drivers, and documentation
15 foot (4.5 m) USB cable
Tracking interface cable
Optional Micron-Precision Filter Wheel
The optional FW8S-Aluma 8-position filter wheel includes a positive centering mechanism that precisely centers each filter in the exact same position every time. This single-pixel accuracy completely eliminates ghost images of dust spots and other artifacts after flat-fielding.
The left-hand image shows a dust spot on the filters. A flat-field calibration frame was taken, then the filter wheel was rotated several times before taking a second picture, which was flat-field calibrated, at right. No evidence of the dust spot is visible. This high precision results in the highest quality images and excellent photometric accuracy.
The Aluma wheel holds standard 36 mm filters, and inserts are available for 1-1/4″ filters, which are suitable for smaller format CCD sensors.
The Aluma filter wheel replaces the camera's front plate, resulting in the minimum possible back-focus, ensuring that the camera / filter wheel combination will reach focus on the widest possible variety of optical systems. Optional "CLA" adapters facilitate using the FW8S-Aluma with standard Canon and Nikon camera lenses.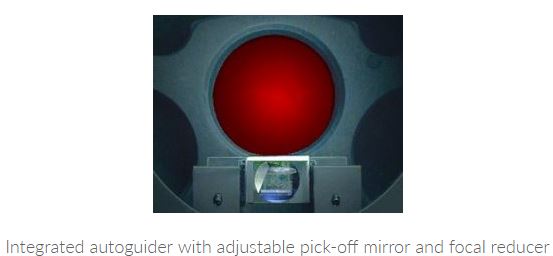 For astronomical imaging, the wheel is available in the FW8G-Aluma configuration. This adds a built-in focal reducer and autoguider. The pick-off mirror and guide camera focus can both be adjusted and locked using simple thumbscrews. With the autoguider positioned in front of the filters, optimum guiding sensitivity is provided for all filter slots. Using a built-in autoguider system eliminates issues with flexure, mirror shift, and other mechanical problems that can degrade guiding accuracy.
The FW8G-Aluma is thicker and does not permit use of CLA lens adapters. Interchangeable plates are available to switch your wheel between FW8G and FW8S configuration.
All Aluma models can operate with the AO-8A Adaptive Optics accessory. The AO-8A uses a tip-tilt window to quickly and precisely adjust the image position in response to autoguider feedback. With Adaptive Optics there is no backlash, stiction, or lag, and the movements are extremely precise and accurate. This allows the AO-8A to not only remove the effects of periodic error, drift, and wind gusts, but also reduce the effects of atmospheric seeing.
SPECIAL PRICED PACKAGES AVAILABLE!
Self-Guiding Filter Wheel Package - SAVE $600
Self-Guiding Filter Wheel Pro Package - SAVE $950 (Includes Baader Planetarium LRGB, Ha, SII, OIII 36mm Imaging Filters)
Additional Information
| | |
| --- | --- |
| A/D Converter | 16 bits |
| Adaptive Optics Option | Y |
| Antiblooming | y |
| CCD Size | 14.6 mm x 12.8 mm |
| Computer Interface | USB2 / WiFi 802.11 b/g/n |
| Cooling Delta | Typical 50 °C |
| Dark Current e/p/s at 0 C | 0.025 e-/p/s typical |
| Exposure | 0.001 sec minimum |
| Filter Size | 36mm / 1.25″ |
| Filter Wheel Option | y |
| Full Frame Download | ~1 sec via USB |
| Full Well Capacity | 18,000 e- |
| Imaging CCD | ICX-694 |
| Imaging / Pixel Array | 2750 x 2200 |
| Internal Tracking CCD | n |
| OAG Option | n |
| OS Compatibility | Windows 32 and 64 bit, Macintosh, Linux, iOS, Android |
| Peak QE | 75% |
| Pixel Digitization Rate | 8 MPix/sec |
| Pixel Size | 4.54 |
| Power | 12 VDC, 5A max |
| Read Noise | 4.5 e- typical |
| Remote Guide Head | y |
| Self-Guiding Filter Wheel | y |
| Shutter | Mechanical, Even-illumination |
| Temperature Regulation | y |
| Total Pixels | 6 million pixels |
| Weight | 2.2 lbs |