Imaging Dall Kirkham Astrographs

AG Optical Systems Imaging Dall Kirkham (iDK) F6.7 astrographs are high resolution instruments with outstanding on and off axis performance across a huge 60mm field of view. By combining large aperture, medium F6.7 focal ratio, corrected optics in a lightweight, stiff, and thermally stable carbon fiber tube assembly AG Optical Systems has created a 100% made-in-the USA instrument capable of capturing stunning images of our universe.

AG Optical Systems iDK F6.7 astrographs were designed from the ground up to be premium performance imaging scopes providing a razor sharp, well illuminated field of view across today's modern big chip CCD cameras. At the heart of each Imaging Dall Kirkham astrograph is a set of hand-figured, very smooth, well corrected optics made by a master optician. The corrector lenses in each AG Optical Systems Imaging Dall Kirkham astrograph are made in the USA to precision tolerances and are coated on every surface with a high quality broadband antireflection coating to ensure that as much light as possible reaches your imaging camera.

The optical tube assembly housing AG Optical System's premium iDK optics is precision manufactured from anodized CNC-machined 6061 aluminum and carbon fiber components to create a very stiff and thermally stable imaging system. Careful baffling, flocking, and surface blackening minimize stray light and internal reflections ensuring high contrast performance at the focal plane of every AG Optical System iDK astrograph.
AG Optical Systems Imaging Dall Kirkham F6.7 astrographs are premium, high-performance imaging telescopes designed to satisfy the requirements of the most discriminating imager. Please contact AG Optical Systems to learn more about our commitment to creating best in class products backed by outstanding customer service.

Included as standard with each iDK astrograph: optical tube assembly, hand-figured optics, Optec TCF-S3i focuser, mount dovetail plate, dust covers.

High-performance, ultra-low expansion QUARTZ optics figured and quality tested as a system by Ostahowski Optics.

Fast F6.7 system designed and baffled to cover 50mm and larger size chips.

Over 6.25" of back focus to support almost any combination of imaging components

Excellent coma free, astigmatism free, flat field performance over 60 mm image circle.

RMS spot diameter* less than 9 microns across 60 mm image circle from .380 to 1 microns (we state RMS spot size in diameter rather than radius as do other manufacturers)

Highly robust, precise Optec TCF-S3i focuser is standard. Optec Gemini rotating focuser upgrade option.

High reflectivity 96% coatings produced in Ostahowski Optics' state-of-the-art coating chamber

Outstanding field illumination across big chip cameras.

Carbon fiber truss tube engineered to provide rigidity and thermal stability.

Optional AGO Thermal Control System for PC-based, automatic control of cooling fans, primary heater, and secondary heater.

CNC machined components with stainless steel fasteners

Best in class customer support and pricing
System Specifications

Model
iDK10
iDK12.5
iDK14.5
iDK17
iDK20
Aperture
10"
12.5"
14.5"
17"
20"
Focal ratio
6.7"
6.7
6.7
6.7
6.7
Focal length
67"
83.5"
97.2"
114"
134"
Back focus (at mid travel of focuser)
6.25" with Optec TCF
6.4" with Optec TCF
6.6" with Optec TCF
6" with Optec TCF
7" with Optec Gemini
OTA type
CF Truss
CF Truss
CF Truss
CF Truss
CF Truss
Fans (blowing air into OTA)

3 x 60mm fans

3 x 60mm fans
3 x 60mm fans
3 x 80 mm fans
3 x 80 mm fans
Secondary obstruction
5.6"
6.7"
7.5"
8.2"
9"
Focuser Options

Optec TCF-S3i 3" Temperature Compensating Digital Focuser




or Optec Gemini Rotating Focuser or Moonlite NiteCrawler

Corrector
Two element,
<.5% reflection broadband AR coated on every lens surface
Optics
Ultra thermally stable optical grade FUSED QUARTZ primary and secondary mirrors are standard, 96% Enhanced
Aluminum, coated by Ostahowski Optics. Optical quality report (interferometry)
provided with each system.
Baffling
P

rimary and secondary baffles, baffled for 2" diagonal size chip

Dovetail

Heavy-duty, Losmandy "D" compatible dovetail plate included

Tube length
26"
30"
36"
42"
47"
Dimensions
Here
Here
Here
Here
OTA Weight
approx. 29 lbs
approx. 44 lbs
approx. 54 lbs
approx. 102 lbs
approx. 141 lbs
OTA weight with dovetail & focuser
approx. 32 lbs
approx. 52 lbs
approx. 59 lbs
approx. 110 lbs
approx. 150 lbs
OTA Price

with quartz optics

$8,795
$9,495

$15,575

$22,595

$32,895

Optec TCF-S3i 3" digital focuser option
$1400
$1400
$1400
$1400
$1400+975+125+225
Optec Gemini rotating focuser option
$3095
$3095
$3095
$3095
$3095
Moonlite NiteCrawler rotating focuser
Contact AG Optical Systems
AGO Thermal Control System
$975
$975
$975
$975
$975
Shroud
$105
$125
$135
$140
$175
Piggyback Dovetail Plate
$200
$225
$245
$265
$295
Crating
$225
$250
$275
$375
$475
Spacers & Adapters
Contact AG Optical Systems
Delivery
Contact AG Optical Systems
Shipping
Contact AG Optical Systems
AG Optical Dall Kirkham astrographs provide pinpoint stars (sub 6 micron RMS spot size, 70 mm image circle) over large fields of view at a moderate F6.7 focal ratio. This exceptional wide field performance is made possible by the use of a two element corrector which reduces coma, field curvature and astigmatism to negligible levels.

Each AGO iDK corrector is permanently aligned and has multilayer broadband AR coatings (<0.5% reflection) on each optical surface. The corrector provides a 70 mm diameter circle of pinpoint stars capable of covering chips as large as those found in 16803 cameras.

Stray light is effectively controlled through the strategic placement of baffles at the primary and secondary mirrors. As an added measure, the interior of each AGO iDK is lined with a flocking material that is extremely effective at trapping stray light.

The combination of an excellent optical design, top quality components, and careful assembly ensure that each AGO iDK astrograph will provide outstanding performance where it counts..... at the chip of your CCD camera.

Optical Testing

AGO is committed to delivering telescopes that consistently offer performance second to none. To meet this objective each set of iDK optics is tested as a system in autocollimation. The type of testing is time consuming and expensive but it essentially guarantees that the optics will provide outstanding performance and realize the potential of the excellent design.

Back Focus

AGO has designed our iDK to be CCD imaging platforms capable of the highest performance. Serious CCD imagers use a wide range of accessories to get that perfect image and finding adequate back focus is always a challenge. With the availability of image rotators, off axis guiders, adaptive optics and various filterwheels back focus is rapidly consumed. Each AGO iDK has approximately 11" of useable back focus (as measured from the back plate to the focal plane) which is sufficient for nearly any image train combination.

A variety of spacers and adapters are available to help you dial in the perfect position for your CCD imaging train. Please do not hesitate to contact AGO to discuss your specific needs.

Focuser: Optec TCF-S3i Digital Focuser

This focuser is capable of carrying heavy camera loads and is extremely precise offering repeatable, predictable automatic focusing. Its digital control system allows automatic focusing of stars and perfectly complements an AGO iDK astrograph. With the Optec TCF-S3i in place, approximately 6" of back focus is available to accommodate imaging equipment.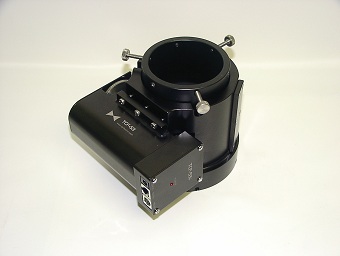 Optec TCF-S3i Digital Focuser

Spacers and Adapters

Spacers Tubes

AG Optical Systems offers spacers in .125", .25", .5", 1", 2", and 4" lengths to help you locate your camera at the proper back focus position. Spacers connect to each other using screws (provided with each spacer) for a rigid, tilt-free connection. Please note that the .125" spacer has through holes only and is designed to fine tune back focus for the FLI Atlas option.

Each spacer has a 3" inner diameter and is precisely machined from 6061 aluminum with a black anodized finish. The interior of each spacer is carefully blackened with a flat black paint to minimize stray light reflections.
Tube Assembly

The tube used for our iDK astrographs is designed to provide a high level of thermal and mechanical stability. Carbon fiber is used in both the truss and tube versions of our iDK scopes to ensure that focus stability is maintained over a wide range of temperatures. A extremely stiff and very expensive Nomex Honeycomb core carbon fiber composite tube is used for our full tube iDK scopes.

AGO has also designed the tube assembly to allow the user to collimate both the primary and secondary mirrors while not affecting the critical spacing between the secondary mirror and the corrector element. Users can completely disassemble the OTA when the time comes to clean or recoat the optics. Through innovative design and precise execution of the tube mechanics, the secondary to corrector element spacing will be precisely repeated when the user reassembles the scope.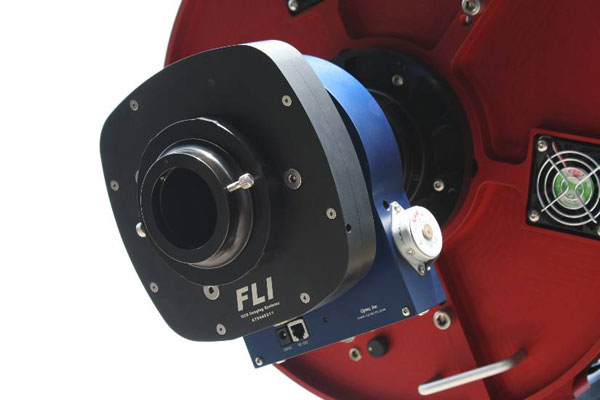 All of the aluminum parts within the tube assembly are precision machined from 6061 aluminum and are anodized to provide a durable, wear resistant finish. Stainless steel fasteners are used exclusively to prevent corrosion.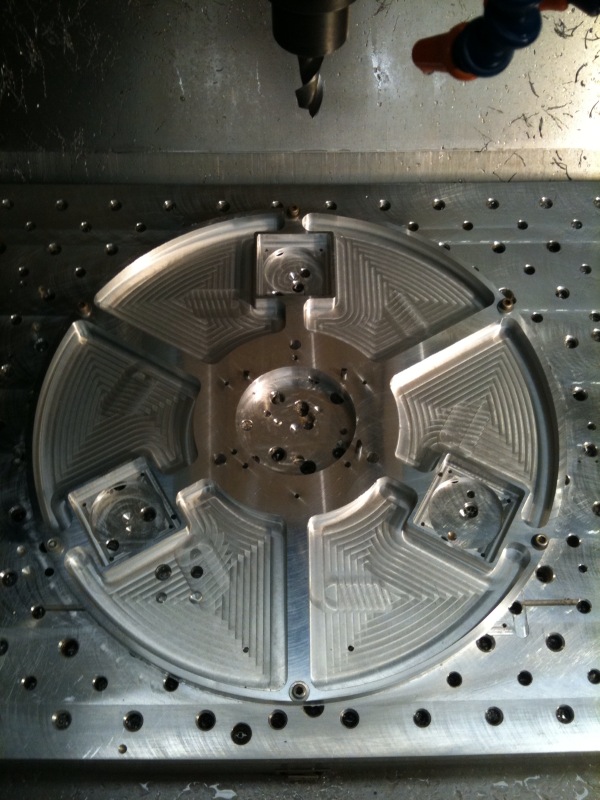 iDK backplate on CNC mill, made from 6061 aluminum

Three 12 vDC fans are located behind the primary mirror to help the primary rapidly achieve and maintain thermal equalibrium with the ambient air. The speed of these fans can be adjusted as circumstances dictate.

Thermal Control

AGO includes cooling fans with manual speed control as standard on all of its iDK telescopes to help speed the cooling of the primary mirror.

For AGO customers who desire more control of the cooling fan system and would like the option of adding heaters in strategic locations where dew has a tendency to form (such as the secondary mirror) AGO is proud to offer the AGO Thermal Control System.

The AGO Thermal Control Systems allows users to control a thermal control system comprised of fans and anti-dew heaters using a PC-based software application. The application can be controlled remotely and allows a user to configure a range of settings that determine when cooling fans and mirror heaters are active. Once these settings are defined, cooling fans and heaters will be triggered automatically based on the temperature of the system and on ambient temperature.

A 50% DEPOSIT IS REQUIRED AT TIME OF ORDER