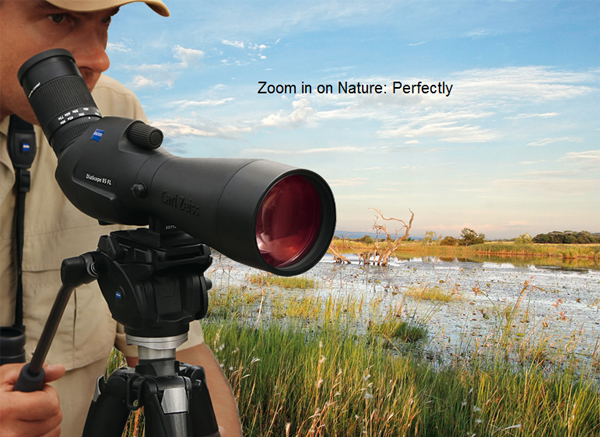 Zeiss Inc. is a German Optical, opto-electronic company that has been around for centuries. They are known world wide for their advanced technology, innovation and amazing high quality products. They manufacturer a wide arrange of sports optics.

Zeiss provides a several series of binoculars. There is the Conquest Binocular series. They are their entry-level binoculars that are reliable, lightweight and easy to operate. There are also the Compact Conquest binoculars. They fold down into a mini-format, which makes them perfect to take on a backpacking trip. The Zeiss Victory FL binoculars provide natural colors and outstanding image due to the use of high-performance fluoride glass. The Victory Compact binoculars have an asymmetrical joint that enables them to be folded up to save space. They are small enough to fit in a jacket pocket. Zeiss created the 7x50 GA T* I.F. Marine binocular for water-sports and professional seafaring. They are robust with simple single-hand operations. They provide stable images even on the rolling ocean.

Zeiss also manufactures a range of spotting scopes. The Victory Photoscope is the world's only spotting scope with zoom lens and a fully integrated digital camera. It has the Super-telephoto lens that has low light capability and a focal length range of 600 mm to 1800mm. The Victory DiaScope provides long-range visibility with outstanding field of view. Precise focus setting is set with a single focusing wheel. Zeiss provide several other models of spotting scopes.

High quality riflescopes are another product that Zeiss produces. The Zeiss Victory Diarange riflescope has an integrated laser rangefinder for long-range shooting. Sighting, measuring and aiming are merged into a single process. The Victory Diavari riflescope series have a wide field of view, which delivers an optimum overview. They have a high-performance optical design and are extremely robust. Zeiss Victory Varipoint riflescope provides bright, high-resolution images. The Illuminated dot works perfectly in the daylight and at night. The Victory Varipoint has the Illumination Control. It makes it quick and easy to control the illuminated dot in combination with your Blaser rifle - the dot lights up when the rifle is cocked.


manufacturers.pagesize
manufacturers.pagesize.perpage